Add-on week is fast approaching at ChicStudios! During these next couple days, our students learn everything from Fashion + Runway makeup and TV + Music Video business. For Fashion + Runway, they have to learn how to execute the designers' vision all while making sure each look is cohesive and runway ready. Here are the top makeup trends that we noticed on the runway this season!
Graphic Liner 
Prabal Gurung played with the theme of their collection — female power, to create strong beauty looks. Like the clothing, the makeup was striking as the models walked down the runway.
Plenty of Pigment
Splashes of color were displayed not only on the clothes, but on the models' faces. Designer houses like Maison Margiela and Fashion East/Matty Bovan (pictured below) used every color in a palette to create expressive looks. Each look is personalized to the model making them unique and distinguishable.
Re-Imagined Black Eyeliner 
The usual cat eye was transformed for the runway! For most designers, they chose to smoke them out– creating a very dramatic look which helped bring attention to the models' eyes, like Libertine (pictured here).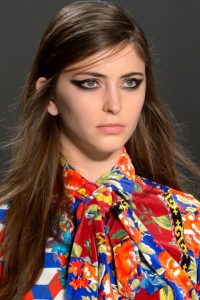 Cherry Red and Berry Lips 
The FW17 season wouldn't be complete without these lip colors. Philipp Plein paired his intense smokey eyes with a cherry red lip — the perfect combination for a sultry look. Public School (pictured) kept their models' looks very natural in the eyes and brows but added a subtle stain to the lips for color.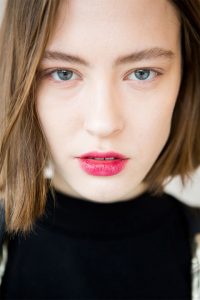 Up Next… 
3/31: Our Favorite Lash Picks
4/14: Spring Beauty Trends